Volunteer Spirit in Action
June 3, 2021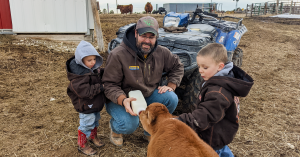 Board Treasurer, Dustin Chester, kicked off the summer by setting up a monthly gift to Snow-Redfern Foundation that will be automatically withdrawn from his checking account on the same day each month.
In addition to calving in the tumultuous Nebraska weather conditions on his ranch 45 miles from Alliance, this humble servant leader is the Branch President of Farmers State Bank in Alliance, NE, actively participates with 4 boards and various other activities.
Volunteer Spirit In Action
His volunteer spirit led him to Snow-Redfern Foundation in 2020, where Dustin serves as the Board Treasurer and as a member of the Development and Executive Committees.  As a true asset to the board and community, Dustin brings knowledge, experience, hard work, and volunteerism to life.
"Being a member of the board was a perfect fit for everything that I value, enjoy, and believe in.  I truly enjoy working with finances and the history of the Boys Ranch speaks to the importance of agriculture in my life and. I strongly believe in helping kids to have every opportunity to succeed". – Dustin
Dustin said that he chose to set up an ongoing gift to Snow-Redfern Foundation because he sees the value that the foundation makes in the lives of many young people.
"It was apparent to me that being a monthly donor was the best way I could directly benefit kids in Nebraska, and the convenience of automatic withdrawal for my donation makes it simple with my busy schedule."
He believes individuals that give to Snow-Redfern Foundation are multiplying their giving efforts because of the multitude of Nebraska non-profits which the foundation awards each year truly make a difference in the lives of children.
Join us by investing in the good life for kids – Donate Now!
Snow-Redfern Foundation provides financial support to nonprofit partners that offer programs and services that make a life-changing impact for kids in need. As the former Nebraska Boys Ranch,
Snow-Redfern Foundation has a rich history in advocating for, protecting, and encouraging youth in
need of hope and healing. Though we no longer provide direct care, our commitment to equipping
young people with the skills they need to be successful and live a good life still remains.
Donate Now = (https://interland3.donorperfect.net/weblink/weblink.aspx?name=E349291&id=1)
Farmers State Bank = www.fsb-ne.com
Dustin Chester Bio = (https://www.snowredfern.org/about/)