New Ways To Teach Kids About the World Around Us
July 16, 2021
Thanks to our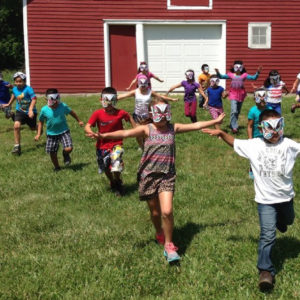 COVID-19 Reallocation Request Process, Prairie Loft Center for Outdoor and Agriculture Learning was able to devise new ways to teach kids about the world around us through social media and online initiatives.
They created a variety of alternatives for learning and engaged kids in new and creative ways once restrictions on personal interaction became the new reality.  One parent shared with Executive Director, Amy Sandeen,

"What you and your staff have still been able to provide for connection, community-building, learning, and nature appreciation in this weird time is amazing. Adaptiveness is a powerful organizational tool and you all have that in spades! Thank you for being there in just the way our community needs you to be!".
Located just west of Hastings, Nebraska, Prairie Loft's beautiful barns were once part of a working farm that fed more than 1,000 people for 80 years at the former state mental hospital. Original farm buildings and grounds are getting new life through our renovation efforts, creating new and expanded space for the community to gather and learn.
Prairie Loft offers hands-on, active, place-based learning activities for people of all ages. Through field trips, family programs, summer camps, workshops, community events, social media, and other activities, we are enhancing agricultural and natural literacy.