Alliance Spartans Help Us Move
August 31, 2021
We have moved our Alliance office location!
In August, the Alliance Spartan baseball team spent a very hot afternoon moving the entire office and all the files from the storage room over to the new location at the Alliance Chamber of Commerce – 305 Box Butte Ave.  Their bulk, brawn, and sweat was rewarded with a donation made by Snow-Redfern Foundation to support the team, as well as the boys' knowledge that they made a difference.
Spartan Volunteer Force
This team can be spotted volunteering their time and labor in Alliance throughout the spring and summer months, not just practicing and playing games, but helping their community.  Coaches Carlos Palomo and Adrian Gonzales are embedding the importance of building transferrable skills, improving social capital, making change, and facilitating respect by engaging the players in volunteer activities.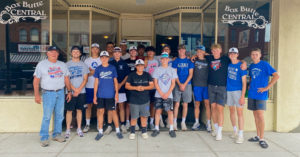 Improving Outcomes for Youth
Former coach of 16 years, Steve Gullion, who also worked at the Nebraska Boys Ranch for over 30 years, coordinated and helped with the moving day activities.  Steve and the coaches know that, according to studies, teens who volunteer are 50% less likely to participate in risky behaviors, are less likely to use drugs, and are more likely to experience psychological well-being. Though the boys may not always appreciate the hard work, they show up all the same!
"Before retiring from coaching Legion Baseball for the past 16 years, I coached many of these boys.  They are hard workers on the field as well as off the field.  They were a great help to Snow Redfern Foundation by helping them move to a different office!" said Steve Gullion.
Steve said that they have successfully moved us in to our new location, we invite all who are in the neighborhood to stop by and say "hello"! If you see one of the Spartan Baseball boys out and about, give them a pat on the back and thank them for making our community a great place to live and thrive.
If you would like to learn more about how you can help us support our local youth, email us at [email protected] or by sharing a gift at https://www.snowredfern.org/give-today/.