Staying Wild in Western Nebraska
January 3, 2022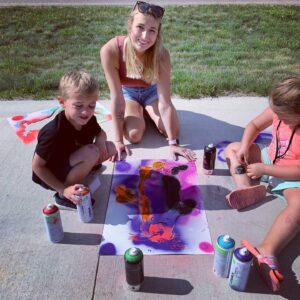 Carnegie Arts Center had an incredible summer working with the Alliance Recreation Center's Summer youth camp. The Carnegie, with support of grant funds like ours, visited the Alliance Recreation Center weekly to partner with the ARC to provide free summer art workshops to their students.
"Stay Wild" Sidewalk Safari
Visiting artist and Professor, Sandra Williams from the University of Nebraska Lincoln, and two honors students travelled across the state to bring "Stay Wild" Sidewalk Safari to Alliance, NE in June of 2021. The project was the brainchild of Professor Williams who had developed it in partnership with the Museum of Nebraska Art.
Her exhibit, "Anthropocene Blues" opened at MONA while they were closed for COVID in 2020. The museum proposed having a virtual lecture series.  However, Professor Williams prefers hands on experiences.
"Community based arts have always been, and always will be, part of my creative agenda. Instead of a 'top down' lecture I prefer that the community explore the role arts play in creative placemaking, having the tactile experience of handling 'cut paper' in the form of stencils, and engage with the topic of animals in a creative manner".
Sharing Art Project with Alliance Youth
After successfully conducting the project with multiple schools in Lincoln, Professor Williams reached out to the Carnegie Arts Center to see if we would be interested in bringing the project to Alliance.
The ARC's total attendance of 60 youth within classes of 15 produced beautiful art!
After two days of spray chalking and stenciling, the students were given fact sheets about the different endangered species.  The youth that were old enough to write created haikus about the animals, and the younger students created beautiful drawings of the animals and recited facts they had learned. In the end, students asked to keep the fact sheets and take-home extras to learn about all the animals.
Interested in helping us support important programs for youth across Nebraska?
Give today at: https://interland3.donorperfect.net/weblink/weblink.aspx?name=E349291&id=1