Grantee Spotlight: Cirrus House
January 19, 2022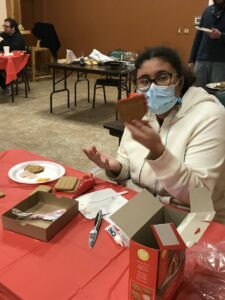 For the past six years, the Cirrus House youth services has co-hosted a mental health awareness arts exhibition along with the West Nebraska Arts Center, with Snow-Redfern Foundation as a funding partner.
Cirrus House has worked with dozens of local artists of all ages to share stories and images of trials and healing every year.
"In 2021 we decided to try something new and after completing our typical two-month stint the Bronson Gallery in Scottsbluff, we have taken this year's show "Re-Bound: New Beginnings" on the road", shared Matt Reese with Cirrus House.
Traveling Exhibit
This traveling, pop-up version of the exhibit has been in Chadron, Oshkosh, Kimball, Bridgeport, and is currently on campus at WNCC in Alliance, where it will stay until January 31st, before moving on to the next stop.
The show has been very well received at the different venues, and Cirrus House has received excellent feedback. In addition, they have been invited to return next year, and plans are already underway for their 2022/2023 mental health awareness exhibit.
Planning for Next Year
Next year's theme will be "The Hero Inside: Comics and Mental Health," which will run in the Bronson gallery from September through October 2022 before making the rounds across the Panhandle.
These art shows are but one small part of what Cirrus House does. From their Day Program, to their counseling program and Community Support programs, they are dedicated to providing the people of the Panhandle with mental health services, from the most urban to the most rural environments.
Without partners like the Cirrus House, many kids would not be able to access quality mental health support in the Panhandle.