Helping Kids for 38 years!
January 31, 2022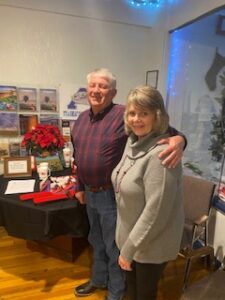 Amy Gullion currently serves as our Executive Assistant, but she has been impacting youth through our foundation for 38 years! Over nearly 4 decades, Amy and her husband, Steve, have held various positions with the foundation and the Nebraska Boys Ranch and even raised their children at the Ranch for a period of time!
Amy generously shared a bit about her history with Snow-Redfern Foundation and the impact it has had on her.  Anyone that has had the opportunity to meet Amy has felt her warmth and compassion, and it is no wonder that she has impacted so many kids over the years.  She expresses, however, that it was working at the Ranch that changed her perspective on life, stating, "You don't have to look very far to see someone worse off than you.  Reaching out to those in need gives them hope!"
Let's hear from Amy on some of her experiences at Nebraska Boys Ranch!
How did you and Steve find yourselves working at the Ranch?  What year was it?  
Steve had applied for the Recreation Director position,  but they had hired someone else.  There was a houseparent job, so we accepted that position as a "couple" in 1984.   When we had our interview at the Ranch, we fell in love with the area and were drawn to wanting to help the boys that we met.   We had a 3 year old son and 3 month old daughter when we moved from Lincoln to the Ranch.  At that time, housing was provided for us connected to the housing for 8 teenage boys. 
What were your general duties as house parents?  
When we were hired, there were no night staff, so our duties were 24/7 with 8 teenage boys – doing just what you would do with your own kids…..getting them up, reminding them to brush their teeth, make their bed, put their laundry away, making sure they were on the bus on time for school or activities, work along side them on "work crews" (cleaning the house, etc)  As a house mother, I helped with the cooking when the full time cooks were off duty and supervised boys in the kitchen.
What was it like raising your own kids at the ranch?  How did it help make them better people?
It was both difficult and rewarding raising our own kids at the ranch.  We were only house parents for a couple of years out of our 25 years at the Ranch as Steve became the Recreation Director and late on the Campus Administrator.  I worked in the office at the Ranch and later at the Business office in Alliance.   When we lived away from the campus area, it was easier to separate our own kids and as they grew, they became involved in school activities and friends.  We still ate meals "family style" in the dining room with the boys.   It helped our kids become compassionate and caring adults.
What impact do you think you and the other house parents/staff have on the boys at the ranch that came to you with so many challenges?  
 I feel we, as staff/house parents, had a great impact on the boys that were at the ranch.  We set boundaries, created some structure for them, but had fun, too.  When first went to the Ranch, there were boys who had been there for 7 years, so it was their "home".  As time went on, the boys did not stay at the ranch near that long and it was difficult to really make a difference.
Perhaps you can take a moment today to send Amy a message and tell her how wonderful she is!  It is the incredible humans, like Amy, that make our world a better place for kids!  Thank you for all you do and all you are, Amy!