CASA Volunteers Help Children Feel Safe
February 17, 2022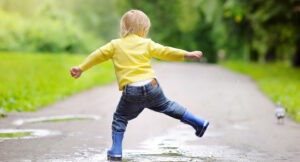 The National CASA/GAL Association for Children reported that, in 2017, 9 out of every 1,000 U.S. children were determined to be victims of abuse or neglect. Physical abuse and neglect are two of a number of highly stressful, potentially traumatic experiences known as "adverse childhood experiences," or ACEs. Children who have experienced abuse or neglect are far more likely than others to have experienced a large number of ACEs.
Court Appointed Special Advocate® (CASA) volunteers are appointed by judges across Nebraska to advocate for children's best interests. This best-interest advocacy makes a life-changing difference for children and youth who have experienced abuse or neglect, many of whom are in foster care.
Through our funding to many of Nebraska CASA's, we hear touching stories that demonstrate the great need for these incredibly big-hearted volunteers. Executive Director, RuAnn Root of CASA of South Central Nebraska, shared a story about a 3-year-old boy named "Tommy."  (Real names of children are withheld to protect them.)
A Boy Named "Tommy"
"Tommy" was removed from his house when he was 3-years old. When the police initially responded to the family home, Tommy answered the door holding a beer can, trying to take a drink. The police entered the home and attempted to wake up the mother who was recovering from a hangover and still in bed at 2:00 pm.
The police removed the child and placed him in the custody of DHHS. Tommy was so scared during the removal, crying, wetting his pants, and not letting anyone get close to him. The DHHS caseworker came around the corner and gave him a suitcase filled with emergency supplies such as soap, shampoo, clean clothes, undergarments, socks, a toy, etc. The suitcase had a picture of the cartoon character, Sully from the movie Monster Inc.
Tommy ran to the suitcase and began to hug it and kept poking the "monster" in the eye, which caused him to laugh. He loved that suitcase so much he refused to walk to the caseworker's car. Finally, he agreed to go once the CASA volunteer secured him on top of the suitcase. When he was being strapped into the car, he asked that his suitcase be strapped in beside him and when they arrived at his new foster home, he again refused to walk into his new foster home until allowed to ride on top of Sully.
The suitcase program is funded by Snow Redfern Foundation and has helped CASA provide essentials that foster kids may need.  The presence and kindness of CASA volunteers also helps to reduce trauma, while reminding children that someone cares for them.
The Impact of Trauma on Children
Experiencing abuse, neglect and other forms of trauma can impact physical and mental health, academic achievement, and more. The support of a CASA volunteer can help children build resilience to counter those impacts.
The Importance of Supportive Adults
Having a stable relationship with a supportive adult can also help children do well, even when they have faced significant hardships. CASA volunteers are trained to understand the impact of trauma on children. They spend time with children and the people in their lives. They talk to service providers, teachers, and social workers to gather information that will help them make informed recommendations to the court.
Based on what they learn, CASA volunteers also advocate for services that promote healing, which help children develop resilience without causing additional trauma, and that encourage the strengthening of parents' relationships with their children.
We are proud supporters of the CASAS's across our state and are very thankful for the love, compassion, and strength they share with foster children, when they need it most.