Tomorrow's Female Leaders
March 4, 2022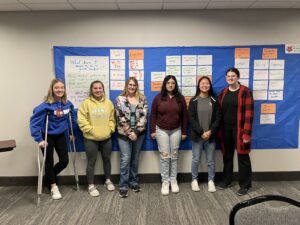 A Tribute to Arvilla Snow-Redfern
The Young Women's Leadership Program is being developed as a tribute to our fearless founder, Arvilla Snow-Redfern.  For decades she dedicated her life to growing great kids that came to her ranch in need of structure, skills, nurturing, discipline, and purpose.  She created an endowment for the express purpose of ensuring perpetual support of kids that needed what she so openly provided in her lifetime.
We think that implementing a program that is specifically aimed at creating opportunities for young ladies to gain experiences, skills, and self-awareness of their innate leadership potential is a project worthy of Arvilla's respect and approval.  Afterall, who better to emulate a program than our fearless female leader who was developing structured programming long before it was considered "proper" for a woman to be doing.
"The first year of the Young Women's Leadership Program is underway and has been structured as a pilot project.  This allows us to test various aspects of the framework so we can strengthen the overall program design and content for future cohorts.  It also provides opportunity to elicit input from a cohort of young women as we develop the program parameters, including curricula design and logistics", said Teresa Sanders, Snow-Redfern Foundation board member and Young Women's Leadership Committee Chairperson.
Kick-Off
The program kicked off on February 20 with a focus group facilitated by ToP facilitator and Executive Director of Panhandle Partnership, Faith Mills.  Six high school girls from Gering, Scottsbluff, Morrill and Hemingford shared their voices in this robust conversation in a beautiful venue that was donated by another strong female leader in our community.
Lisa Weborg, owner of Hotel 21 and Weborg 21 Center, created a space for the girls to convene.  After completion of the two-hour facilitated discussion, the girls were thrilled to take a tour of the lavish hotel's main floor.
Among the multitude of insights shared by the girls was their feedback about descriptors of female leaders, which included: nurturing, hard-working, organized, responsible, persistent, assertive, self-aware, able to do things for themselves.  They also expressed that female leaders often have to work harder than males in order to get what they want/need.
The Program
The short-term cohort-based workshop series is designed to enhance the leadership skills, college/trade preparedness, and/or career development of young women in Nebraska. The program prepares 16- to 19-year-old female presenting participants for the workforce, post-secondary education, and leadership in their communities.
There will be a four-workshop series for this first cohort, which will include content ideas expressed by the girls as important to them as they develop their leadership skills.  The curriculum is currently being designed by Allyson Berggren, Service Excellence Director at Regional West and previous elementary school teacher and principal.  The workshops will be facilitated by Dr. Maya Chilese, seasoned ToP facilitator, administrator with Public Health, and owner of Blueprint Consulting LLC.  Dr. Chilese has also been instrumental in the development of the Youth In Power program for which Snow-Redfern Foundation awards funding to Panhandle Partnership and CAPWN to implement.
"The workshop series will be presented virtually", said the facilitator, Dr. Maya Chilese, "creating a more intentionally inclusive cohort design that allows participant diversity and the ability for young women to join from anywhere in Nebraska.  The design lends itself to a more robust model that integrates technologies, skill introduction, and relationship building with broader impact that can be scaled and repeated for future cohorts."

As we grow this program, we are seeking support from those interested in sponsoring the development of curriculum or sponsoring a future participant.  Please contact Sara Nicholson at [email protected] or at 308-763-6370 if you are interested in investing in this program as it expands state-wide next year.
As this exciting project unfolds, we will be sure to share updates!  Keep an eye out for these incredible young women!