Creating Opportunities at Carpenter Center
March 8, 2022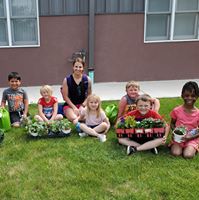 Carpenter Center Executive Director, Matt Carpenter, shared his appreciation with us recently, saying
"Area kiddos could not participate in the annual Carpenter Center Summer Camp without the generous support of the Snow-Redfern Foundation!"
Matt hopes to impact MANY  this summer!
"Snow-Redfern's generosity allows us to remove financial barriers so that no matter a child's financial status they can have the summer camp experience at NO CHARGE! Our summer camp continues to provide fun, summer activities, in addition to literacy, intergenerational opportunities and food sustainability tracks. Our camp is full every summer, and COVID-19 did not change that. We realized how critical it was to continue camp, so we just restructured it and carried on. We are deeply grateful for the support of the Snow-Redfern Foundation!"
As summer quickly approaches, we want to ensure all kids have the opportunity to be safe, healthy, and happy.  Consider investing in the GOOD life for kids by sharing a gift that will impact many kids this summer, such as those at Carpenter Center!