Home Grown Kids
May 2, 2022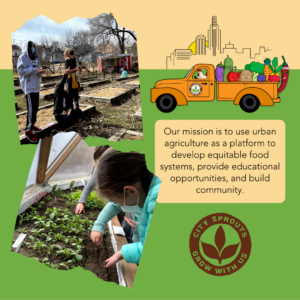 There are all kinds of creative and educational opportunities blooming for kids! One of the grants that we awarded last year was called the Outdoor Nature Classroom.  The City Sprouts hosted classes for Home Grown Kids, their youth education program for homeschooled children, throughout the chilly spring weather.
"Support from Snow Redfern made it possible to provide educational garden beds and a vermicomposting center for the children to learn from year-round outdoors in our Geodesic Greenhouse. Kids are able to learn about nature through hands-on experiences growing food, composting, cooking, and more", shared Katie Kresha, Executive Director of City Sprouts.
The space is also used to host field trips and other educational programs for youth and adults and this year we funded this cool learning opportunity in Scottsbluff!
Learn more about the outdoor classroom, educational opportunities, and upcoming events at www.omahasprouts.org!
Help us invest in the good life for kids!