Extending Generosity
June 6, 2022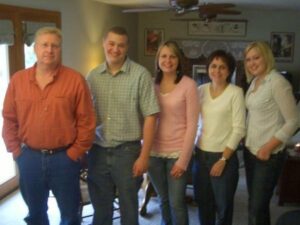 In the spring of 2022, the KM Dahlstedt Memorial Scholarship was organized by the Dahlstedt family, after the death of Kevin Michael Dahlstedt in 2007.  Employed with BNSF for nearly was the vice-local chair for the UTU as well as serving as councilman for the Alliance City Council.
He was passionate for the culture, the history, and the work of railroading. For him, it was truly more than a job. Kevin was also a history enthusiast, and an avid reader.
His widow, Kevin Leigh, and their three children, Wren, Mara, and Conrad, want to extend Kevin's generosity by encouraging students to pursue a career in high-demand trades, and possibly, find a lifelong passion.
Snow-Redfern Foundation received multiple scholarship applications for these funds, and ultimately awarded $5,000.00 scholarships to four students graduating from Alliance High School. The awarded students are all enrolled for fall classes at various colleges.  The majors include nursing science, powerline program, criminal justice, and veterinary science.
We are thankful to the Dahlstedt family for their commitment to the community and to the young people that are pursuing education, training and ultimately, careers in Nebraska.
"Honoring a family member through a scholarship fund is a wonderful way to not only extend a legacy, but also to have a positive impact on the life of a young person", shared Snow-Redfern Executive Director, Sara Nicholson, who encourages more families to consider this charitable and loving option for giving.