Successes Come in Unexpected Forms
June 16, 2022
Creating Confidence

"Billy nervously walked toward the horses, and he instinctively stuck his hand out to greet the closest horse. His shoulders and arms were rigid. His hand was a tightly closed fist. The horse walked away. The following day, Billy's arm and shoulder were less rigid. However, the hand remained tightly clasped. The horse backed up a few steps but did not walk away. On the third day, although Billy was still a bit hesitant, he took several deep breaths (without being prompted) before he approached the horse. As a result, the tension in his body dissolved. As he moved forward, the horse extended his nose to smell (greet) his open hands," shared Nancy.
Success Comes in Unexpected Forms
Nancy Lyon, who operates LyonHeart Equine Assisted Learning program in Kearney, Nebraska, shared that she sees successes that come in unexpected forms. one of the first tasks they ask of the children (no matter the program topic) is to build a relationship with a horse by introducing themselves to the horse.
LyonHeart has been awarded grant funds from Snow-Redfern Foundation for serval years, which have, in turn, been translated into family scholarships for individual/private sessions. The work Nancy does with children and horses helps kids develop confidence to creatively solve academic and life challenges, develop and consciously choose to positively regulate emotions in stressful situations by becoming aware of non-verbal communication, and to learn to identify & utilize their network of support.
Target Population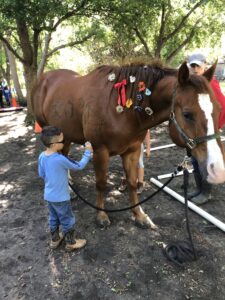 The target population that they serve are children and youth between the ages of 5 and 18.  The children enrolled are vulnerable and/or at-risk, based upon parental behavior ratings. LyonHeart reported that 18% of the kids they serve have behavior concerns, 12.5% experience anxiety, 15% experience anger, and 7% are in an adoption or foster care situation. Other indicators documented include the in incidence of single parent households, academic challenges, depression, low parental income, and involvement with Individual Education Plans.
As of June 2022, Snow-Redfern grant funds have funded twelve scholarships for individual/private sessions and a three-day summer group program, and another thirteen scholarships just for the summer group program.
Thanks to the dedicated work of LyonHeart Equine Assisted Learning Program, many kids can develop confidence and life skills and we are proud to be a partner in their work.