The 2022 Camp Scott Experience Enriched Lives of Many
July 12, 2022
Camp Scott just finished up their 2022 Enrichment Project and shared some of the fun activities the campers participated in!
Thanks, Snow-Redfern Foundation for making it possible for these experience and others we were too busy to photograph!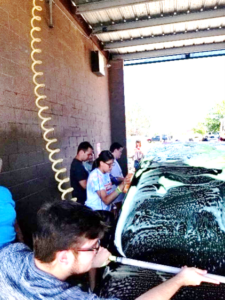 Campers were able to experience custodial tasks since cleaning is both a future employment possibility—and an everyday life skill.  They practiced safe food handling, vacuuming rugs, cleaning floors and mirrors and bathrooms.  They also explored cleaning vehicles!  Some funding provided basic squeegees and cleaner.
Campers went to Monument Car Wash to learn new skills and enjoy a fun, soapy water experience. That was a favorite.  Owners provided this learning opportunity at no charge!  Bright lime green safety vests were purchased to become the professional uniform when they practiced custodial skills and visited sites in the community—hotels, the zoo– every business and home cleans!  The "uniforms" can be reused next year.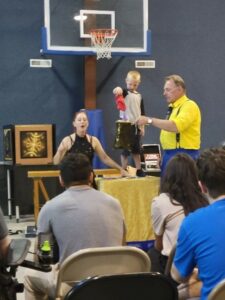 Keith West Productions gave a private magic show which allowed for accommodations for camper needs.  For many youth, being in a huge crowd at the public library show would be overwhelming.  The magician could personalize the show to help us enjoy it more.
All campers got to swim in the YMCA indoor facilities on two Fridays.  It includes a heated therapeutic pool helpful to some campers.   Campers need extra supervision and seldom get to swim unless they have the support of counselors.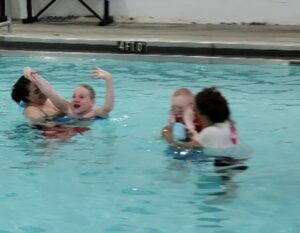 YMCA Trails West was used for an overnight sleepover experience. Older campers enjoyed the outdoor pool, cooking their own supper, playing games, exploring nature and the sleep over experience many had never been able to do before.
The last day of camp, children went to the Gering Pool—which had a slide for our bravest mobile kids to enjoy.  Gering swim time was done during open swimming time so kids could be introduced to swimming when other people are around.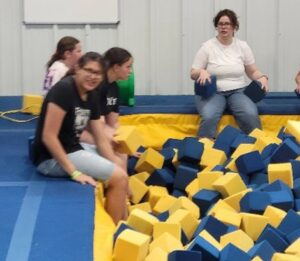 When campers visited the Carpenter Recreation Center, they enjoyed activities in the gymnasium and fitness rooms, but it was extra fun to get to be on the soft mats, trampolines or jump into the foam pit. Tumbling classes don't usually accommodate kids with physical challenges, but that day the campers were gymnasts! Carpenter Center also did the tour and experience  at no charge!
A statue of a chimpanzee feels like a safe way to look closely!  Riverside Discovery Center and Zoo enriches in so many ways—all those animals, habitats and nature!  There is even a splash zone—so fun to get sprinkled!  At the petting zoo area, one camper was even nipped by a baby goat! That is taking sensory experiences a little too far—but he wore that band-aid like a badge of honor. Quite a story to tell mom.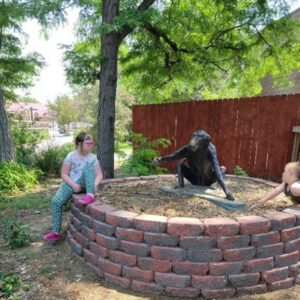 Zwetzig Skate Park helped every child find a way to participate in movement to music. Skating is tricky but a support system helps.  Some kids rode scooters or bikes or twirled in their wheelchairs to the music.  Of course, the bounce house was popular with everyone.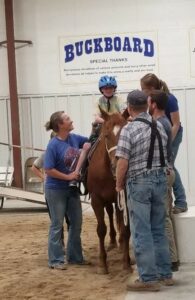 Buckboard Therapeutic Riding Academy gave our children the opportunity to ride horses with support of a physical therapist and volunteers.  Both campers and horses enjoy being given tasks to complete.  Children who cannot ride at all still get to be up close to make friends with the horses.
Classic Lanes offered us the chance to go bowling and learn about their business.  They have adaptive equipment so everyone could participate.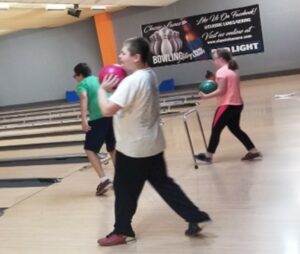 Snow-Redfern funds allowed us to purchase official culinary aprons to help campers feel more professional as they took culinary lessons three times a week.   Funds also  purchased basic kitchen equipment to  allow campers to explore cooking as essential life and career skills. The major focus was on spread, slice, measure, and mix. And—of course—taste new foods! Counselors reported that by the end of camp, kids were reporting to the kitchen with clean and sanitized hands—that was progress!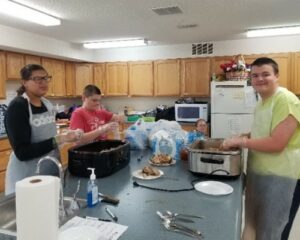 The food they prepared looked simple, but it is difficult when you have challenges! Most kids learned to hold the item down while they spread—some kids needed an adaptation such as putting a dab of frosting on the plate to hold the cookie while they spread frosting on the top. They got to spread strawberry and grape jelly in stripes to make flag bread, sliced vegies for dip and made pancakes on the new griddle.  Campers even pulled the pork roast for the sandwiches served at the family picnic.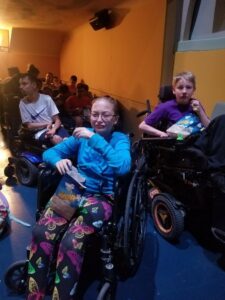 With the help of the Snow-Redfern Foundation help, campers were able to attend the children's movie at Mid-West Theater.  It was so fun to see the art deco murals and sit in the dark with our snacks and our new camp friends!
Thanks so much , Snow-Redfern Foundation,  for making it possible for Camp Scott to have so many learning experiences this summer!